In Bodegas De Alberto we invite you to eat
This year, on the occasion of the celebration of European Wine Tourism Day, we want to highlight the gastronomic profile of this experience and the surprising world of sensations that wine opens to us.
Place an order at De Alberto Online Store between October 9 and November 9 and you will enter the raffle for a visit to the winery and food for two at the Mesón de Pedro de Matapozuelos restaurant.
A unique gastronomic experience.
For you or as a gift!
The winner will enjoy:
 A guided visit Inhabited Memory for two people in Bodegas De Alberto, in Serrada.
 A tasting menu for two people at the Mesón de Pedro de Matapozuelos restaurant.
About Mesón de Pedro
The restaurant-inn offers its customers a very specialized menu based on Grilled Skewers of Rabbit and Rabbit grilled with sarmiento and holm oak, typical products of the area elaborated in a simple and natural way in which you can feel the flavors of Our land at its best.
In addition, they have an extensive wine list specialized in the D.O. Wheel.
A place to enjoy.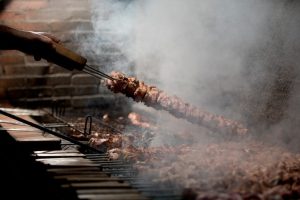 DRAW BASES
We raffle a package experience visiting the winery plus tasting menu, among customers who make a purchase through our online or telephone store between October 9 and November 9, 2019.
The participant must be a person over 18 years old.
The winner will be published in our social networks on SUNDAY, November 10, European Wine Tourism Day, at 12:00 noon, in addition to communicating personally.
The draw will end on November 9, 2019 at 00.00h.