There is a new installment of the ' gourmetmanía ' . Today, we 're going to cook an easy starter and that will not leave indifferent any guest.
Chicken croquettes and ' golden ' apple
The amounts are intended to serve 6 servings . In 20 minutes you will have prepared the mixture and in 10can enjoy it! Shall we begin?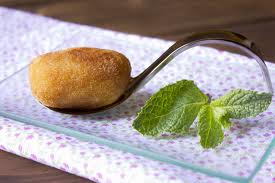 Ingredients:
150g chicken breast 1/2 onion 1 block Pedro Ximenez 10cl
1 tablespoon sugar (large)
4 tablespoons flour (large)
Pint of milk
1 egg
Breadcrumbs
Black pepper
Parsley
Nutmeg
Poppy seeds (optional)
Salt
Step 1
In a skillet with a tablespoon of oil fry the chicken begins to brown when they retire. Then pocharemos onion and apple for 5 minutes in a pan with a little oil. Add the tablespoon of sugar with a splash of wine ' De Alberto Dorado ' , after two minutes add the chicken and let it mix well for 2 minutes.
Step 2
It is time to add the flour, stir well and let it cook well for 2-3 minutes to avoid its raw taste.
We are pouring the milk little by little. Add the parsley, nutmeg and black pepper. We begin to stir with the rods.
We keep stirring until we get a thick dough.
Step 3
Pour the dough onto a mold with plastic wrap (so that we are not sticking ) and let rest for 2-3 hours.

Step 4
Finally we prepare a plate with the beaten egg and the poppy seeds and in another with the breadcrumbs. We make the croquettes, pass them first through the egg and then through the breadcrumbs. Fry them in a pan with oil (that covers half the croquette) and when they start to brown, remove them.
and voila! You already have a delicious starter but be careful, recommendation for the cook: put aside the ones you want to eat because... they will fly!
Enjoy!