The demijohn is an increasingly fashionable element in decoration and with a very intense relationship with the world of wine, especially with our winery. For this reason, we want to talk to you about the tradition of this container and its importance in the traditional production of our De Alberto Dorado.
Legend has it that in the fourteenth century Queen Juana I of Naples, on a stormy day, took refuge in the village of Grasse, in France. During his stay, he visited a glass craftsman, where he showed great interest in the glass blowing system. It is said that, by blowing with great force, he managed to create a 10-liter bottle, to the astonishment of the glassmaker, who baptized this creation as gimme-janne, in Spanish translated as demajuana.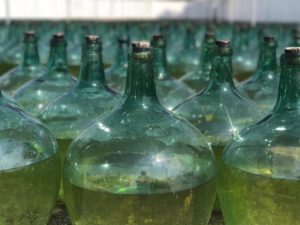 Since then, more than 500 years ago, the glass container has been used to store water, wine and other liquids, in pantries and cellars.
In Alberto's Cellars continues to be an element of great importance for the creation of our wines, especially the Golden De Alberto, our golden colored Verdejo, with an intense aroma with hints of nuts.
Our love for tradition has led us to continue using demijohns, which shine in the sun, making our wines a unique product that you can see in this spectacular video.
https://www.facebook.com/BodegasHijosdeAlbertoGutierrez/videos/pcb.10155479601205336/10155479590255336/?type=3&theater