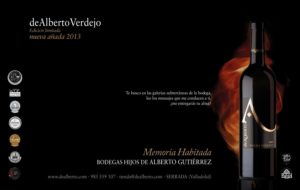 deAlberto still betting on the European market to present their wines . last February 24 he moved to Amsterdam to present the new vintage of our deAlberto Verdejo 2013 . During the conference held at the Hotel Casa 400 tasting was conducted in collaboration with the PR agency Melman Communications.
2014 begins with good prospects for the world of wine. The end of 2013 shows a new historical record of exports in value, reaching €2,628 million, which represents 162 million more than those invoiced in 2012. On the other hand, the good harvest last autumn in Spain also favors a recovery in volume , which begins to rise from last August and now reaches 1,847 Ml, although still far from the record of 2,300 M at the beginning of 2012.
The Netherlands have become, in recent years, one of the preferred destinations for the export of Spanish wine. A strong wine culture and the personality of our wines have captivated the most select palates in the region.