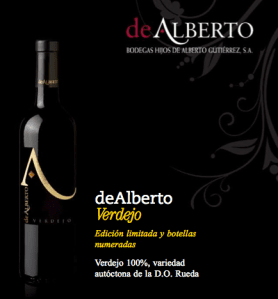 achieved. As we proposed at the beginning of the year we are, again, among the winners at the great international wine event The Bacchus 2013.
With its characteristic salmon-pink color dominated by a large amount of fruit with hints of strawberry, our came Finca Valdemoya Rosé 2o12 He has won the Golden Bacchus. This broth, on the palate, is intense and tasty as well as well structured. It is a very appropriate wine to drink with rice, seafood and white meat. We recommend serving it at a temperature between 6º and 7º to enjoy all its flavor.
The other great winner of the contest was our De Alberto Verdejo 2012 with a Silver Bacchus. Its singular straw yellow color and greenish reflections, its intensity on the nose, where fruity aromas with tones of hay and aniseed hints stand out, and its freshness and long persistence on the palate captivated the jury. This wine, whose autochthonous variety of the DO WheelIt is excellent to accompany appetizers, shellfish and fish. We also recommend serving it at a temperature between 6º and 7º to let you be captivated by all the qualities that have earned it so many awards.
Finally we want thank the work, dedication and daily love of so many people who make up the entire team of the Hijos de Alberto Gutiérrez Winery, that makes it possible to get our crops forward year after year. The recognition of the Bacchus awards would not be possible without them. And of course, the best reward is the trust that our consumers place in us every day. Thank you all!