After the tradition of the 12 grapes, one of the most meaningful gestures in the Christmas celebrations is the Toast. Wishes and celebrations are attributed to him.
There are many versions that explain the birth of this emotional gesture in meetings. Some of them place them in Greek times, and it has to do with the show of confidence that the host offered to his guests.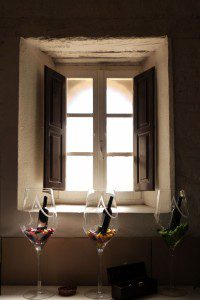 In the great banquets and invitations that the upper classes organized for their delight or in honor of someone, the servants served all the guests in the glasses and the host would raise his glass and take a drink, as a sign that that drink was good and did not have any poison.
Depending on the culture, there are some variations in this tradition. Some just raise their glass, others clink them. And what does history say? One of the most endorsed testimonies is that the clash of the glasses had the function of "splash" and mix the contents of both glasses, especially among monarchs and nobles, who used these methods to eliminate rivals, to demonstrate that no type of poisoned drink was offered.
It is said that with the toast the welcome to the new year is celebrated and the moments that one wants to forget are left behind, it is used to remember the good moments and the beginning of the wishes of the next year. The type of drink to toast is very personal. However, depending on the moment of the celebration in which we do it, it is recommended to use a certain type of wine. If it is done at the beginning, a cool white wine is usually used, accompanying a starter or appetizer. If it is done during the meal, it is usually done with a red or rosé wine. However, if it is done at the end of the event, a type of sparkling drink such as cava or champagne is usually used. But as we have anticipated, it is a personal matter and each one will toast with the drink they want.
Without a doubt, good intentions are not lacking to start the new year. But, Are all the propositions that are made at this moment remembered and fulfilled? We suggest that all of you present write your wishes for 2013 and next year in one of the uncorked bottles of wine or with the one you toast at the beginning of the year, as an exercise in reflection and fun to discover if they really came true.